You Don't Find the Job;The Job Finds You
The Harvard Law School Association of Washington, DC is proud to co-sponsor with the Harvard Club of Washington, DC this exciting event!
Fewer companies are posting job's online. They are getting overwhelmed with the number of applications. They are increasingly searching for candidates via social networks, social media, and online tools. Professor Scott Talan will tell you how you can understand your brand, create it, and then put it online, so that the job finds you. Professor Talan has created a course on Personal Branding, given the "Last Lecture" about this topic, and given a TEDx talk about it as well. Scott Talan MPA '02 is an Assistant Professor of Public & Strategic Communication at American University. Talan is an expert in social media and personal branding honed through communications experience in four distinct fields: TV News, Politics, Nonprofits/NGOs and Higher Education. Talan has worked at the United Nations, Harvard University, and the March of Dimes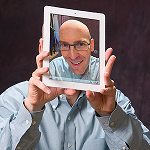 Talan wrote at ABC News Good Morning America. He's also reported on-air for local TV news stations in several states including California, New Mexico, and Florida while covering politics including the 2000 presidential recount story where he bested other reporters for stories and interviews. Before news, Talan was as an elected city council member and Mayor of Lafayette, California.

Talan received his Master in Public Administration from Harvard's Kennedy School of Government, studied broadcast journalism at Stanford, and completed his BA at the University of California at Davis in Political Science and Economics.
​Tickets: http://hcdc.clubs.harvard.edu/store.html?event_id=1762
Law School Graduates and their guests: $45.00 per person.
Tickets include talk, full dinner and drinks.
​You need to buy a ticket to attend this event. You do not need to RSVP.
Please share with fellow HLS alumni within your social media and other networks.
Buy tickets today!
When:
Thursday, 03/28/19 at 6:30pm - 8:30pm | iCal
Where:
Hogan Lovells
555 13th St. NW (Metro Center)
Washington, DC USA
[ Get Directions ]
RSVP Here...

Contact us with questions at: